100 % By Volume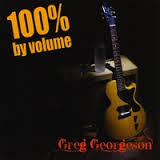 I guess I shouldn't be too surprised; just when I found myself wholeheartedly indulging in the grim, bile and gore-flecked offerings of the Death Metal and Black Metal genres, I find myself hopelessly intrigued by an artist that takes obvious pride in epitomizing all things '…Rock 'n' Roll and Rock 'n' Roll-related…'.  Don't get me wrong; throughout my increasingly lengthy and adventure-filled excursions as a music and entertainment journalist, I have frequently fallen victim to the openly seductive and often misleading ploys of countless acts of suck ilk with little or no discernable consequences, with the exception, perhaps, of minor hearing loss.  However, prior to stumbling upon the stunning 100% By Volume, the long-awaited solo debut from former Sequel guitarist/vocalist Greg Georgeson, never before had I found myself so utterly smitten with a new release.
On the brilliant 100% By Volume (2009), an expertly assembled eleven song collection of deftly-executed Hard Rock, each track, beginning with the maddeningly infectious "Take It Or Leave It", and the soaring, hook-laden "The Girl Gets Around", immediately commands the rapt and undivided attention of all parties involved.  Effortlessly intertwining a seamless, multi-faceted barrage of passionate vocals, searing fretwork and imaginatively punishing rhythms amid a now-trademark introspective lyrical approach, Georgeson wastes little (if any) time dispensing with the proverbial '…business at hand…'.  Locking down on an occasionally  swaggering groove reminiscent of Sequel's Power Pop-fueled glory days (most notably 2006's ingenious reunion effort Back), the group fires on all cylinders with what can only be described as a well-rehearsed ease.
Continuing with the hopeful (if not outright yearning) "When You're Ready", and the self-explanatory lament "Too Little Too Late", the steadfast–to say the very least–combination of lead vocalist/guitarist/bassist Greg Georgeson and drummers Grant Roholt (i.e. Georgeson's Sequel partner in crime) and Andy Gauthier steamroll forward at a frequently mid-tempo pace.  Thankfully avoiding the shameless, payola and chart position-driven tactics so often embraced by the would-be mainstream, Georgeson and his esteemed bandmates focus on delivering an instantly distinguishable collection no-nonsense Hard Rock.  Undeniably worthy of the highest of critical and commercial accolades, each key focal point is driven home with an oddly satisfying efficiency that only further solidifies Georgeson's well-deserved reputation as a creative force not to be ignored.
Easily the most underrated Hard Rock release of the still relatively young year that is 2009, other standouts, including the refreshingly emotion-laden "This Town", and the equally impressive instrumental closer "Skaghetti", offer a veritable wealth of compelling further sonic evidence in support of Georgeson's curiously overlooked  quasi-bravado.  An arguable must-have for any die-hard Cheap Trick, Tom Petty or Rolling Stones aficionado, the end result(s)–as you may have already guessed–of the acclaimed Tommy Tutone axeman's self-produced and mixed efforts are indeed nothing short of extraordinary.  Ultimately yielding an oft-seamless series of much-welcomed and increasingly rare musical reprieves, the impossibly airtight behemoth that is the mighty 100% By Volume once again separates the axeman from his few truly legitimate '…contemporaries…'.
So what's really wrong?  You're still not sure you'll '…dig…' it?  Seriously, dude…get a freakin' grip!  Although one might effectively argue that the majority–if not all–of the decidedly ear-pleasing wares contained herein may not necessarily be for everyone (particularly those without a genuine and sincere interests in hooks, harmony or melody), one must, at the very least sincerely admire Georgeson's seemingly unique ability to effectively recapture the tireless, youthful spirit of the past without sounding either forced or dated.  Thus, if you've once again found yourself in search of a slightly 'Old School' (if not outright 'retro') alternative to the painfully mindless, Pop and Hip Hop-infused din and clatter that is so often force fed en mass, then this, my friends, might just be the delightfully high octane cure for what ails you.  Trust me, you won't be disappointed.
Imaginary Theme Songs
by Vintage Guitar
J.H.
January, 2011 Issue, pg. 120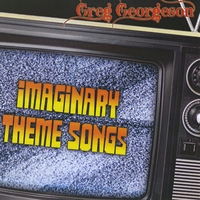 Georgeson has fashioned a batch of songs with a retro sound that's just what the title implies.  He plays with perfect tone, dialing in whatever the song calls for.  After the "theme" portion of the disc there's two nice covers of 60's tunes.